ROI Awards
About ROI Awards
Established in 2008 in Shanghai China, with 13 years of development, ROI Festival has become the largest and most influential business creativity awards in Asia region, as well as the most influential Chinese award for global recognition. Every year, thousands of outstanding marketing cases are submitted by 600+ professional creative agencies, media agencies and media companies. And each autumn in October, the grand ROI Festival is held with summit attended by industry elites and renowned celebrities to discuss and disrupt status quo of marketing and branding, and the award ceremony draws to a close of the event.
Key Dates
Open for entry 1 April 2020
Entry deadline 30 June 2020
1st round judging 15-27 July 2020
2st round judging 3-9 August 2020
Final onsite judging 13 August 2020
(Finalists notification,
forum guests speakers release)
The 13th ROI Festival 19 – 22 October 2020
ROI Festival Awards Ceremony 22 October 2020
Value of participating
① ROI Festival is the world' s first business creativity awards, which aims to celebrate works that help to realize the business value founded on the theory of 'Business Creativity' using the market (both professional judgment and consumer/sales responses) to quantify creativity.
② Authority and Objectivity: Our professional judges and procedures, together with the collaboration partnership with PwC, all ensures the results are authoritative and objective.
③ Active Participations: ROI Festival is the first one who rewards marketers for maximizing product creativity R&D budget or marketing communications budget to achieve best ROI from the corporate perspective. And it also helps to accelerate positive development from the perspective of the industry.
④ Authoritative judges: Consisted with senior executives from first-class enterprises, international 4A agencies, our authoritative judges have established the authority and influential power of the ROI Awards. Their final selections may represent the vane of the business creativity every year.
⑤ Participation of advertisers: PepsiCo, P&G, Volkswagen, Fotile, Xiaomi, Yili, Uniqlo, McDonald's, Chrysler, Haier, Huawei, JDB, Masterkong, Coca Cola, Nice, Levi's, Lenovo, Mengniu, L'Oréal, Johnson & Johnson, Samsung, Wanglaoji, Unilever, YUM, Budweiser, etc.
⑥ Participation of agencies: Ogilvy, Hylink, GroupM, Publicis Media Group, Cheil Worldwide, Leo Digital, BlueFocus, OmnicomMediaGroup, Isobar, FCB, &c. Inc., BBDO & Proximity, Havas, Allyes, Carat, Leo Burnett, ADK, McCann, IPG Mediabrands, MSL, Posterscope, LOWE, GIMC, Saatchi & Saatchi, TBWA, H+K Strategies, Wunderman, Hakuhodo, Y&R, Grey, JWT, R&D DESIGN, Newplan Design, ARTOP, LKK, MOMA, FROG, Feish Design, etc.
⑦ Participation of medias & digital medias: Alibaba, Tencent, Baidu, Qihoo 360, iqiyi, ifeng, JD, LeEco, Autohome, Sogou, Sohu, NetEase, Sina, Dragon TV, Focus Media, ShenzhengTV, Century KP, Asiaray, JCDecaux, Tulip Media, ZhejiangTV, Google, Facebook, Twitter, Microsoft, Yahoo, etc.
ROI Audit Evaluation Model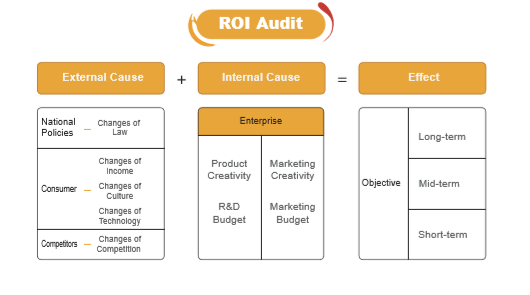 Evaluation Criteria
Within 10+ years of development, ROI Evaluation Criteria has been under continuous amendments in the years 2010, 2012, and 2014. In 2015, ROI organizing committee set up a business creativity research institute and released Nine Trends of China Business Creativity at the 8th ROI Festival. Since 2017, we have integrated the evaluation criteria of product creativity and marketing creativity to facilitate promoting China's business creativity development.
Evaluation Criteria
§ Goals & Difficulties: 30%
§ Creativity & Execution: 30%
§ Results: 40%
ROI Festival & PwC
On 13th June 2012, Mr. Onicek He, Founder and Chief Architect of ROI Festival and Mr. Dan Li, Partner of PwC(pictured) signed the Independent Votes Cooperation Agreement. Established in 2008, ROI Festival has become the largest and most influential business creativity awards in Greater China region and is known as the "Oscar" in the field of Chinese business creativity. PwC, the world's largest multinational professional services, with 169,000 employees across 158 countries and regions, and more than 12,000 employees in China. It has been 78 years since the academy of motion picture arts and sciences commissioned PwC's voting service for the Academy Awards. Because of its objective standpoint and extraordinary credibility, PwC has been respected by the whole industry. We believe that PwC will use its global experience, professional approach to ensure the objective fairness of the reviews and help ROI Festival become the most influential professional awards in Greater China, Asia and even the world.